Classic School Girl Dress
Submitted by

Little Raven

on Tue, 2017-03-14 00:25
The Classic School Girl pattern is out and up on Etsy! It took a couple extra days of work than I thought, and I had to make a last minute name change, as Vintage School Girl was too close to a few other 18 Inch pattern titles. But I'm good; classic works and it was one of my alternate working names.
The design was inspired by an old family photo from 1927 and I'd been thinking of remaking it into a doll dress for a long time. The style here is very distinctly 1920s with a kind of loose, blousy look, meanwhile the 1940s, 50s, and 60s developed a more tailored look.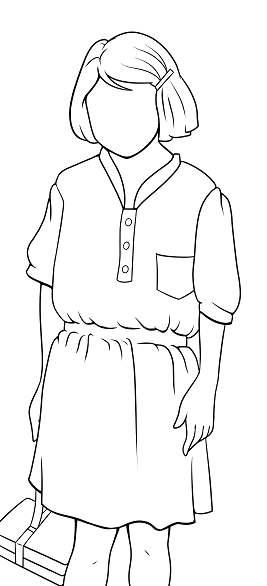 I tried to capture a little bit of each of those decades in the Classic School Girl design as versions of this style have appeared many times over the years.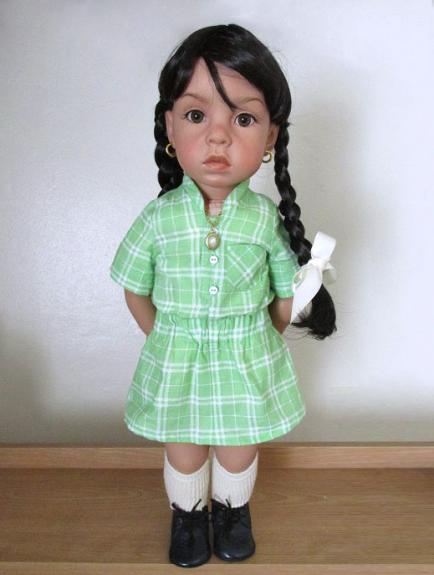 I think you can put on some knee socks and high top shoes and it looks very 1920s.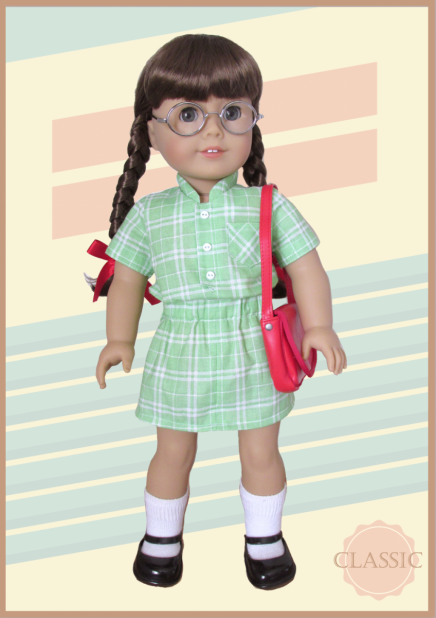 Add some bobby socks and saddle shoes or Mary Janes and it can look like something out of the 40s.

Interestingly, it also reminds me of the school girls' uniforms in one of my favorite vintage movies, 1971's Melody (S.W.A.L.K), so these cover girls got 1970s era pigtails, hair ribbons, and headbands.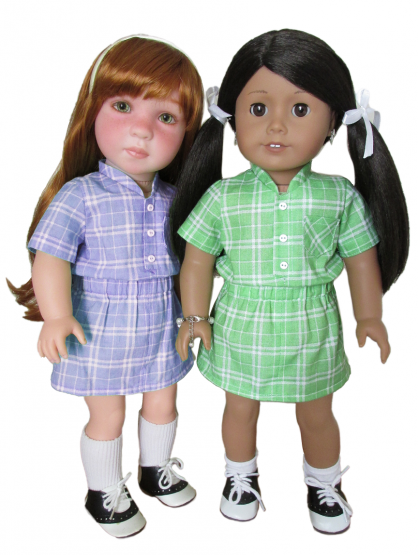 So just for fun, here's a look at some "classic school girl" styles over the years.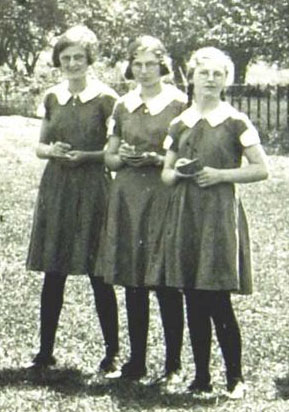 This is one goes back to the 1930s, a trio of girls with glasses looking scholarly in the their matching school uniforms. Are they taking notes during the photo session? That's dedication.
 

Side-by-side school dress images from the late 1930s (left) and the mid 1940s (right). You can see the evolution of style as the shoulders puff up and the skirts begin to flare a bit more. I just love these two dresses!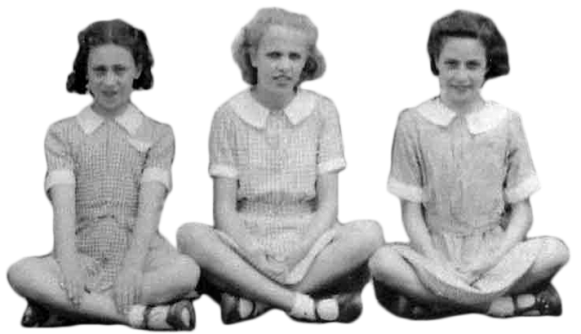 Three smiling English school girls from 1946 wear their classic school girl uniforms.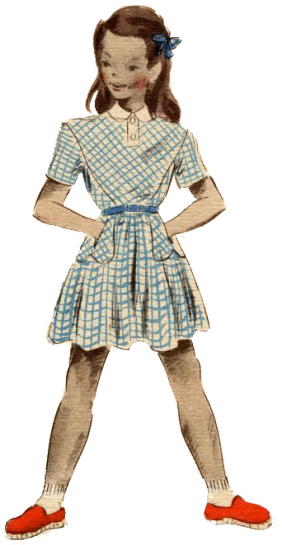 Here's a German school girl dress from the 1940s. As you can see from some of the previous pictures above, the 1930s cultivated a long, slender look with fluff and emphasis at the upper arms and shoulders. But it wasn't until the 1940s that you get the first true square-shouldered dresses.

Here's another 1940s image of a well-dressed school girl, books in hand. This version of the dress has neat pleats.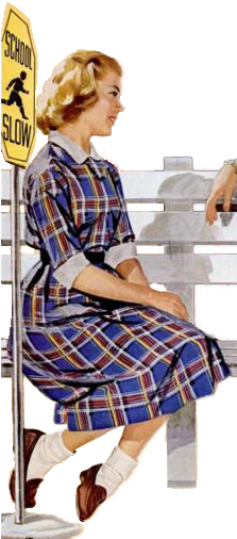 Now we're in the 1950s waiting at the school bus stop, once again wearing our timeless school girl dress. Elbow sleeves had become fairly popular at this time.
 
In the 1950s, the square shoulders of the 40s became more natural while the flared skirts got even wider. Poofy petticoats kept those wide dresses extensive.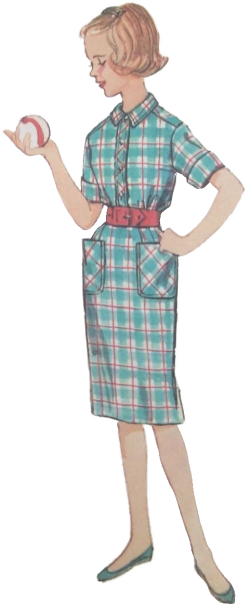 Now we've arrived at the early 60s, where the classic school dress gets slimmer and sleeker. Toward the end of 60s, the dresses got shorter and groovier.

Here's one from the mid-1960s with pleats and a tie.
 

Don't look now but it's the 1970s! Oh no, she better hurry or she'll miss the bus.

Jump forward a decade or so, and we find a cute and casual 1980s princess seam version of classic school dress.
OK that's it. I hope you enjoyed a brief journey through school girl time. Now go get the Classic School Girl pattern, grab your doll, and go for a few more spins around the century!