Cloth Body Progress - Dying to Match
Submitted by

Little Raven

on Tue, 2016-08-23 20:37
Dye results: I had to mix three dyes to get the right shade of cloth to match two colors of vinyl. It's a crazy guessing game!
But I got better as I went along. I did the lighter color first--not too bad. But I got a bit closer to the vinyl color on the second. In fact I'd say it's a nearly perfect match! They look great, pretty close, and I learned a bit about dying cloth.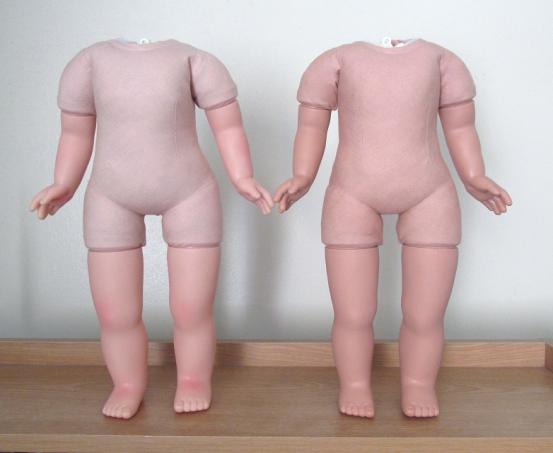 I can't attach the heads yet on my custom dolls, because next comes the permanent face paint. I've done some face painting recently on low end dolls as practice. But this time I'm doing it for real, and using reborn paints which require baking between layers. Not gonna lie, I'm intimidated again. I was a professional portrait artist some years ago so I'll be using those skills to essentially create a portrait on the doll head. :) Yeah, it's still a whole different animal doing it on vinyl.
I'll be posting the results very soon.
(Other posts in this series):