Cloth Body Progress - Head Test
Submitted by

Little Raven

on Sat, 2016-08-20 11:22
After some more fiddling and niddly niddling, mostly with the armature inside the body, I was ready to attach the head.
The particular doll kit I've been mucking around with is a Secrist "Punkin" in extra light vinyl--extra light referring to the color, but easily applying to the structure of the vinyl as well: it's super soft! Maybe that makes for a very cuddly doll, but creates a challenge when trying to stand and balance it.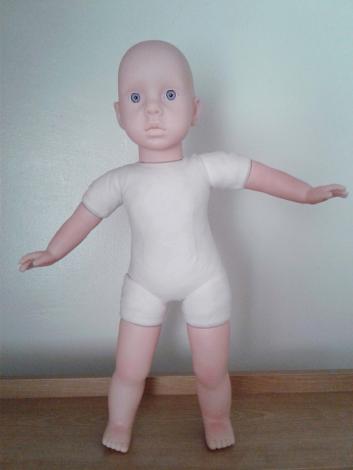 The vinyl texture is very rubbery so it wants to wobble a bit. I'm wondering if weighting the legs will help stabilize it for standing.
I also added to the issue by stuffing the body too loosely this time around. Like I said, I had to un-stuff and adjust the armature then re-stuff, and when I did, I didn't stuff as firmly as before. The result? A slightly sagging wobbly body. Nope, not a good idea.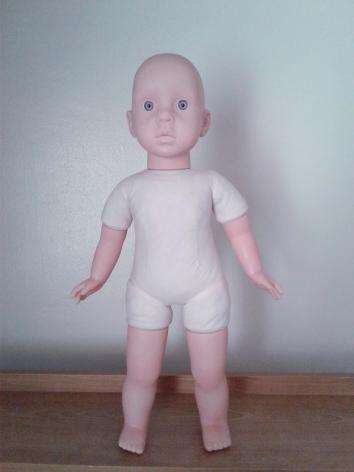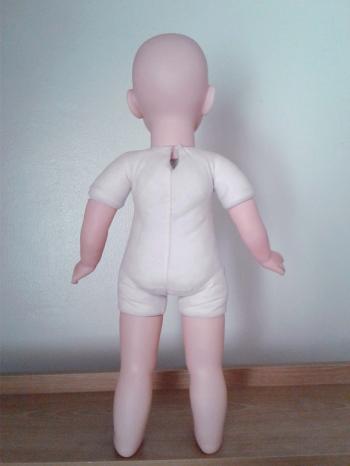 I figured out the doll's balance seems to pivot at the cloth upper legs. If it's not firm enough, it wants to bend and flop over. Note to self: stuff the upper legs tightly!
So with tightly stuffed upper legs where the joints would normally be, this doll's not going to be much for sitting anymore. But then I created the armature version to be a standing doll and mostly for display, so she doesn't really need to sit. The jointed doll will do all the sitting. :)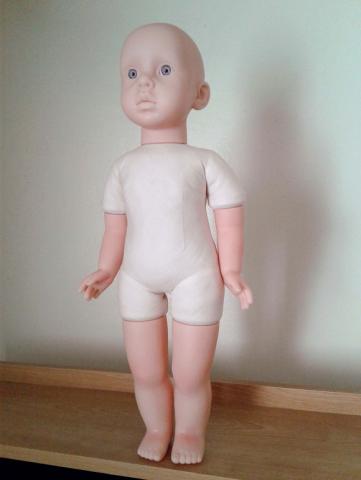 Also, once I got the head on, I could see the neck hole wasn't right. Her head tilted back too much, which further add to the balance problems. Whatever little standing she was willing to do, mostly went out the window when the head went on.
Admittedly I could get her to stand with a bit of trouble, but it wasn't easy! Then I popped a wig on her head to further test how it would effect her. It actually seemed to help a bit because I could pull the hair forward or back to try to compensate for her propensity to face plant.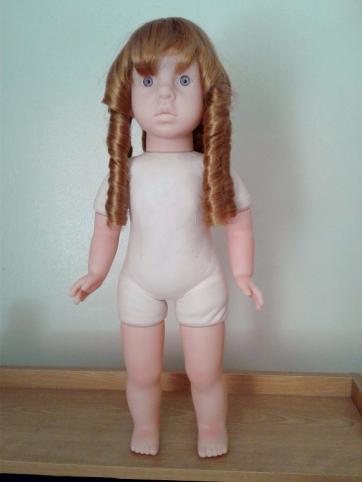 Here's "Punkin" slowly emerging into a full doll. Does she look just a little bit spooky?
But she just isn't going to be a natural stander, no matter how you spin it. Oh well, doll stands are good for that, you know!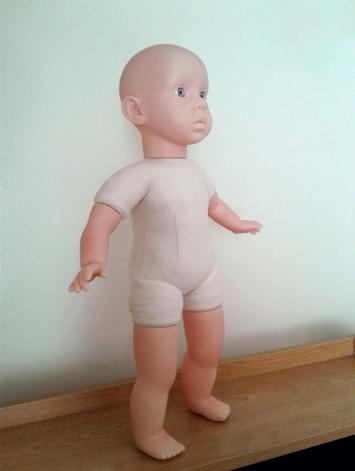 Trying to balance the weight of her new head!
So I made some adjustments to the pattern at the neck (and the back curve) and zipped up another cloth body to test on one of the firmer vinyl dolls. This time I used an Annette in light vinyl (which always seemed to me like a shade of medium). I stuffed her well at the upper legs and yep, she could stand with more ease; I'm sure the firmer vinyl contributed, as did the cut of the neck hole.
Annette's got this.
On the other hand, I overstuffed her arms in my zeal, which made her look a little like a linebacker. Just a little. So note to self again: stuff the upper arms loosely!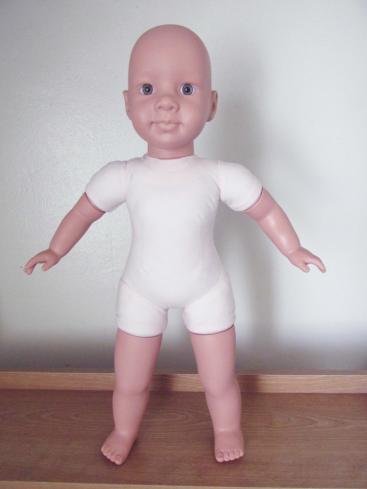 Here are the two dolls together. Admittedly they do look a bit odd without any face color, especially Punkin with her extra pale skin and somber expression. :)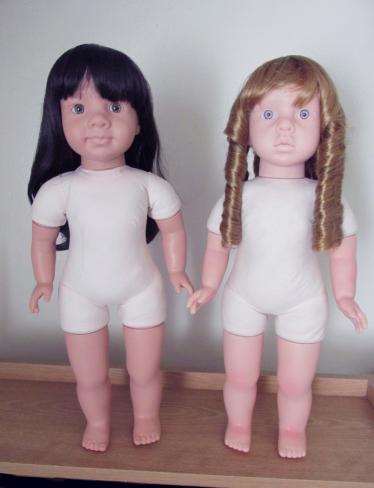 "Come play with us Danny."
I think the pale eyes add to that, but no worries, she will look completely gorgeous when I get her face paint going.
I earlier found these beautiful blue and gold acrylic eyes searching about on BJD sites and it seemed like now was a good time to try them out! She'll be a knock out when I'm done, just saying.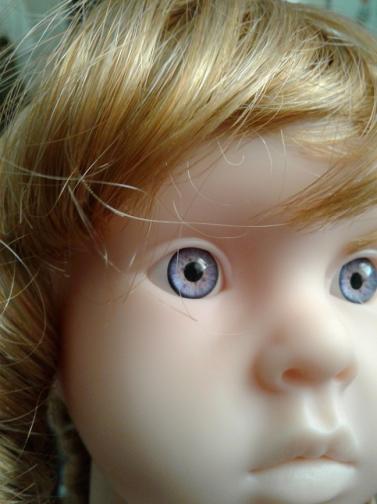 But I'm getting ahead of myself! The next step will be to see if I can dye the fabric closer to the vinyl color of each doll. I pretty much have zero experience dying anything. So it should be fun.
Updates incoming.
(Other posts in this series):