First-Borns Part II
Submitted by

Little Raven

on Thu, 2017-01-19 21:56
Onto Part II of my First-Borns Project. (Again apologies for poor lighting. I had zero% natural sunlight as the skies rained for days!)

So I had fairly good success with my first two First-Borns, English Boy and Punkin Princess (for lack of better names). So I grabbed another four blank heads and got to work on them.

I chose an ethnic Carly with hazel-green eyes who'd I'd been eager to work on for months and a green-eyed Annette I wasn't sure what to do with yet. Unfortunately, as I started working, I found one of Carly's eyes was cracked, so I had to remove them and meanwhile look for replacements.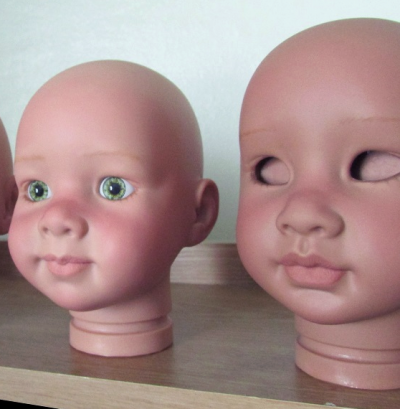 ANNETTE AND CARLY
I gave them some basic face color, the first layer of lower lashes, and a guide line for their brows.
I also chose a second English, this time in extra-light vinyl with green eyes. For a long time I'd imagined this head as a cute freckled ginger. Plus I picked out a second Carly with Victorian Blue eyes. I had a red wig reserved for her too.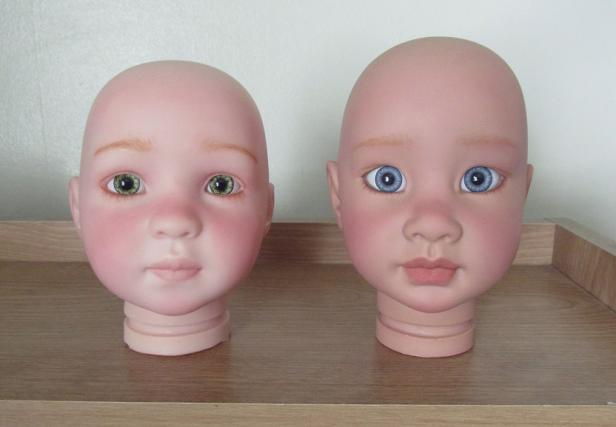 GINGER ENGLISH and VICTORIAN CARLY WAITING FOR ANOTHER LAYER OR TWO OF PAINT
I painted English's eyebrows 100% freehand, keeping the color rusty. I tried to give her a bit of a pink or ruddy coloring to go with the carrot wig I'd chosen.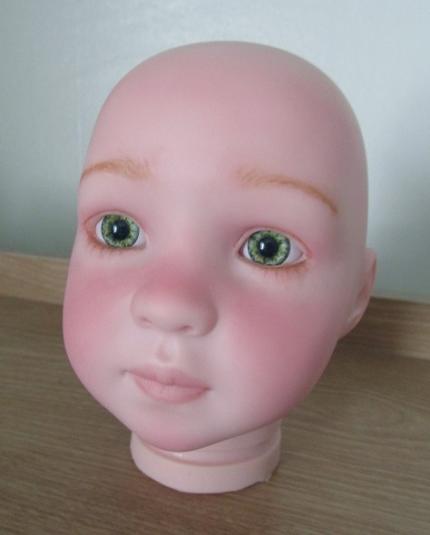 GINGER ENGLISH BEFORE HER FRECKLES. . .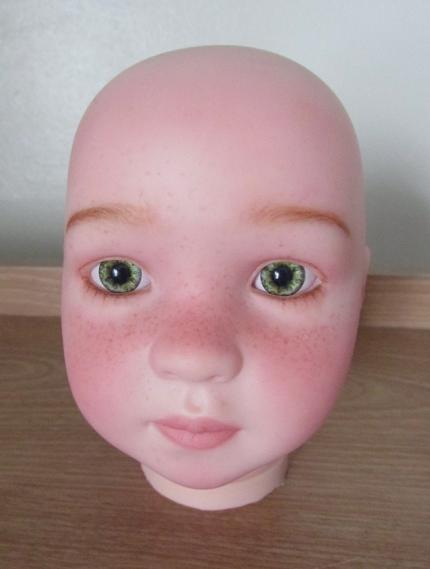 . . . AND AFTER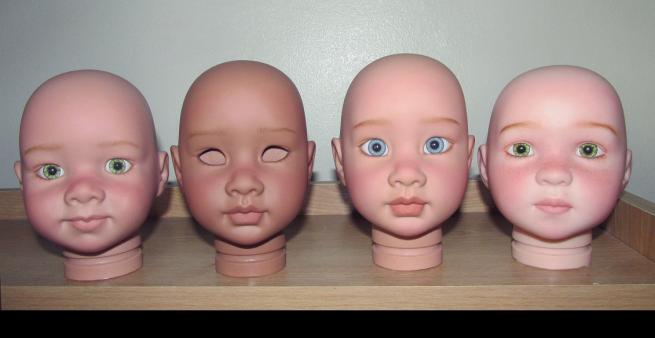 FOURHEADS
Annette and Carly I (left) are ready for their final paint layer. Carly II and Ginger-English (right) are ready for the finishing touches: upper lashes and lip varnish.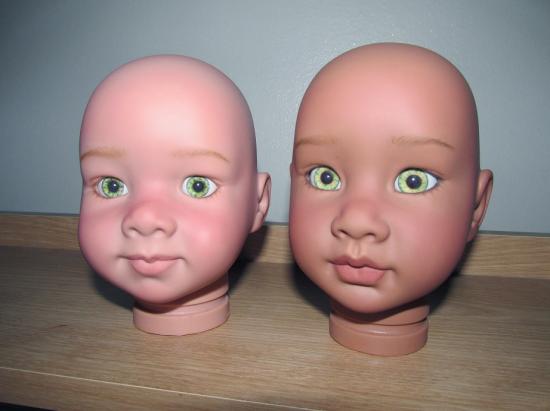 ANNETTE AND CARLY GET THEIR FINAL PAINT. CARLY'S TRYING ON SOME NEW EYES.
I tried about three or four different green eyes on Carly I, trying to duplicate her original hazel-green, but nothing worked too well with her rich brown skin.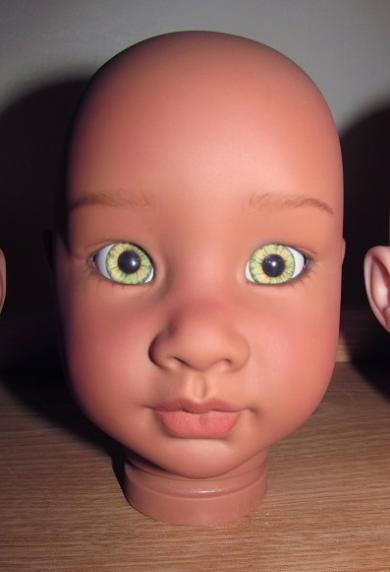 Yikes, these eyes almost look like they are glowing! Nope.
I also included my long-patient girls Punkin and Annette from my custom cloth body project. They'd been set aside while I worked on my Fant'sy Dress pattern and many time-consuming auctions. As I'd left them with only a blush of lip and cheek color and 1 1/2 eyebrow between the two of them, they were very ready to move on to the next step and actually get faces!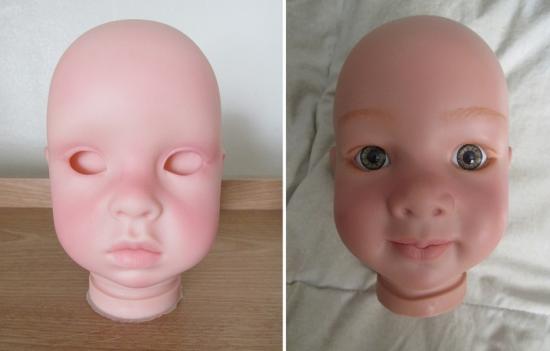 CUSTOM CLOTH BODY PROJECT GIRLS: PUNKIN'S SPECIAL VIOLET HAZEL EYES REMOVED UNTIL SHE'S DONE BAKING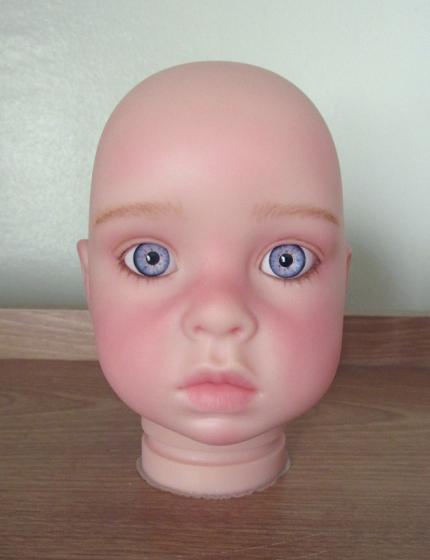 PUNKIN GETS HER EYES BACK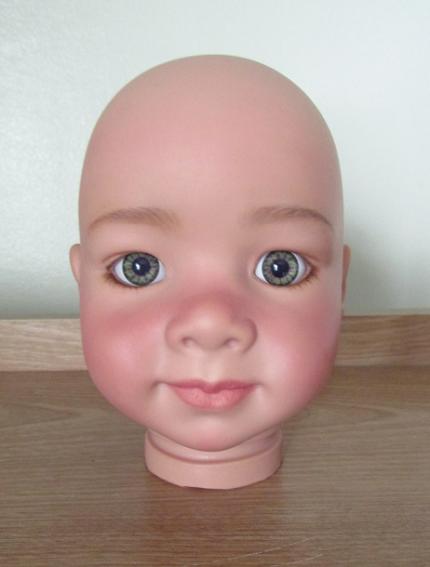 ANNETTE GETS TWO BROWS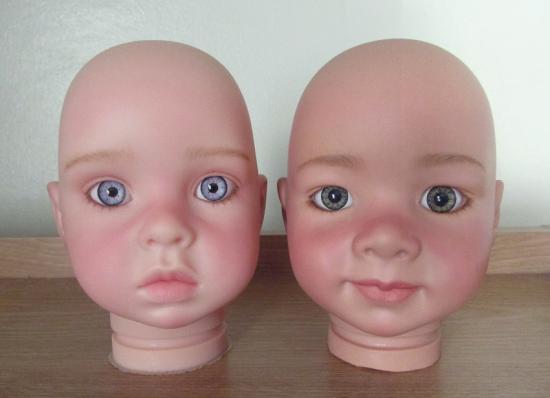 SIDE BY SIDE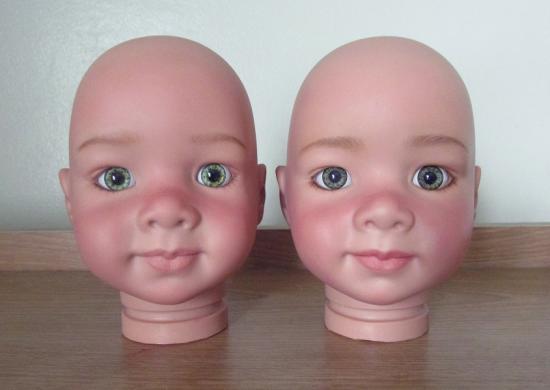 THE TWO ANNETTES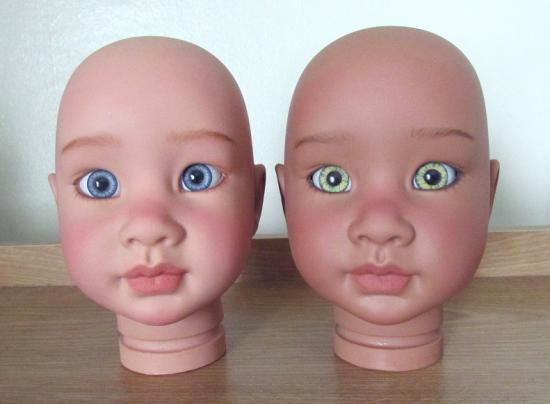 THE TWO CARLYS


ALL TOGETHER NOW: GINGER-ENGLISH, PUNKIN I, CARLY II, ANNETTE II, ANNETTE I, CARLY I
Everyone's paint is done! Now for the lip shine and upper lashes.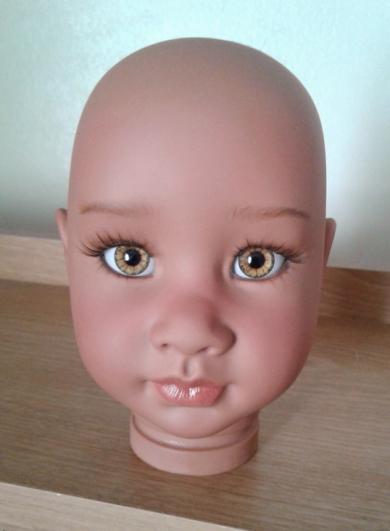 I finally found the perfect eyes for Carly, an older pair of Secrist Real Eyes in hazel! She's a beauty with her upper lashes and satin lip varnish.

CUSTOM BODY ANNETTE AND PUNKIN WAITING FOR THEIR NEW WIGS AND BODIES
Custom Cloth Body Project Annette and Punkin got their lashes and lip varnish and are now headed for a bit of body revision while waiting for their wigs. Meanwhile, some of the other dolls need specially ordered lashes or wigs too. So it looks like there will be a First-Borns Part III, where we finally get to see the completed project and the First-Borns come to life.