Harmony Club Dolls
Submitted by

Little Raven

on Sun, 2015-07-12 12:45
Harmony Club is a relatively new doll company that has managed to survive in an extremely competitive doll market and emerge as a success. HC got started in 2012 by buying dolls wholesale from China, customizing them by switching out wigs, and then reselling them for a profit. Their original motto was "Peace, Love and Harmony." Some of the dolls who were part of this "1st" generation were Harmony, Justice, Arianna, Samantha, Makayla, Summer, Juli, Liberty, Alyssa, Alexa, and Ellie Ann. Most of these early dolls used the same face mold with different hair color and hairstyles. At least one ethnic/ African American doll was offered from this first generation of HC dolls.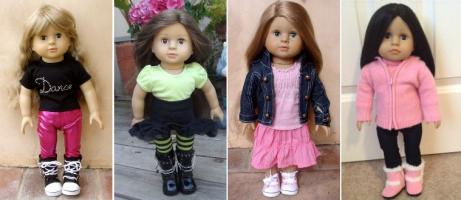 EARLY HARMONY CLUB DOLLS

Soon Harmony Club dolls dumped the wholesale idea and debuted an original face sculpt marked with their company label and began offering their own, unique "harmony" themed dolls. These new, original dolls had names such as
Jazzmin,
Cadence, Melody, Joy, Song Li, Lyric, Pirouette,
Sara Grace, Kendall, Jacqueline, and Cyndi(?). The dolls were very well received.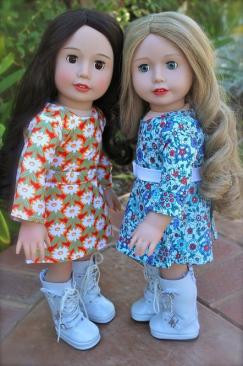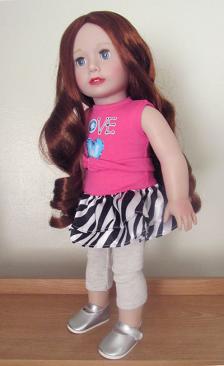 HCD ORIGINAL FACE SCULPT: MELODY, CADENCE, AND LYRIC

In 2013 Harmony Club added some boys to their line up. For these they departed from their custom sculpt, returning to the Chinese wholesale doll, although the new boy dolls used a different model than the wholesale dolls used before. At least two of the boys were named: These were Cameron and Mason. Many doll enthusiasts have considered Harmony Club boy dolls to be the best-looking 18" boy dolls on the market.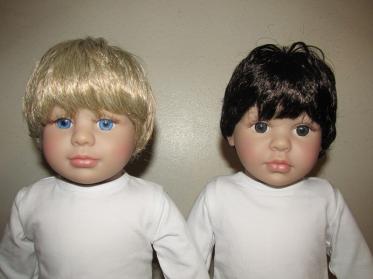 GOOD-LOOKING BOY DOLLS CAMERON AND MASON

Their lower quality bodies however, are a little stiff and don't exactly show them off to the best degree; the arms and legs tend to stick out and they have less balance when standing. Still, the HC boy dolls are overall of decent quality, with bodies very similar to (jointed) Kingstate Friendship Kids
dolls.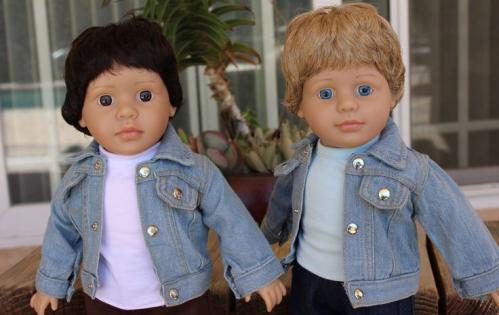 HC BOYS MASON AND CAMERON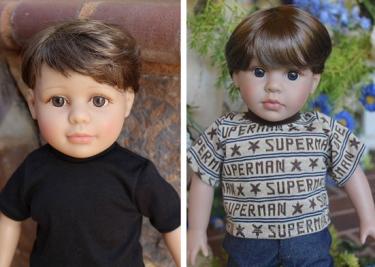 HCD BOYS
More recently, Harmony Club has emptied their inventory of custom dolls and again returned to offering Chinese wholesale dolls, this time with a large number of new models, some of which have been more successful than others. There's only a guess what Harmony Club's future course will be, especially in regards to their own custom designed doll.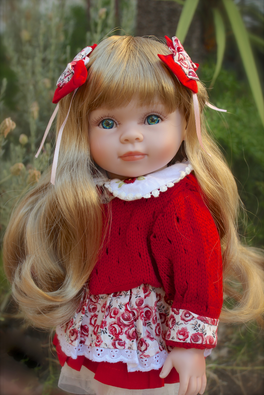 CURRENT HARMONY CLUB DOLL


The original/ custom HC dolls are very comparable to American Girl in general design. They even bear a close facial resemblance to them, although they have have paler skin and bright red lips. Their cloth bodies are thicker--as much as 1/2" - 1" bigger around. For their larger waist size, however, they aren't as firmly stuffed as AG dolls; their body fabric is also fuzzier. The vinyl arms and legs are very close in size and style to American Girl dolls. However, they don't stand as steadily as AG; their legs sometimes wobble a bit. They can share most clothes with American Girl, although some AG clothing may be too tight around the midsection for Harmony Club dolls. The can easily share shoes.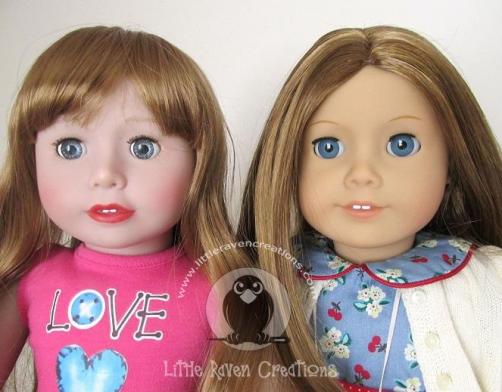 HARMONY CLUB DOLL WITH AMERICAN GIRL

Harmony Club's brand dolls also have somewhat "plasticy" looking eyes that only come in brown or blue. The wigs on the other hand are very high quality
Kanekalon

, comparable to American Girl wigs, possibly even better. Some of the earlier HC dolls may have had varying hairstyles, although the later HC "original" dolls all have the same long, center-parted, wavy style. All of these dolls also have the same face sculpt, in the same color vinyl. There are no obviously ethnic dolls in Harmony Club's custom designed group.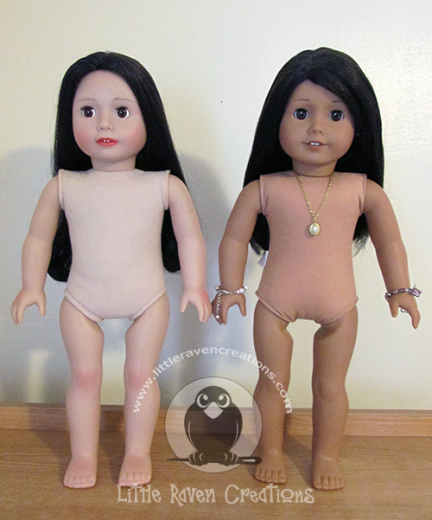 HARMONY CLUB MELODY AND MATTEL AMERICAN GIRL #42
| | Pleasant Company AG | Mattel AG | Harmony Club |
| --- | --- | --- | --- |
| height | 18" / 46cm | 18" / 46cm | 18" / 46cm |
| head | 12 1/4" / 31cm | 12" / 30.5cm | 12 1/8" / 3.75cm |
| chest | 11 1/2" / 29cm | 11 1/4" /28.5cm | 12 1/4" / 31cm |
| waist | 11 1/4" /28.5cm | 10 1/2" / 27cm | 11 3/4" / 30cm |
| hips | 12 1/2" / 32cm | 12" / 30.5cm | 12 1/2" / 32cm |
The measurements are approximate. Individual dolls may vary.
Harmony Club dolls sells their own fashionable doll clothing and shoes with a fairly large assortment. They even offer novelty items such as crowns and various occasion costumes.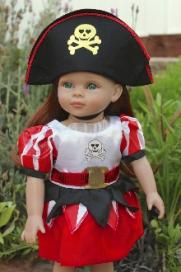 The dolls prices have changed over the years with each reiteration. HC's original design dolls could once be purchased for about $85. The current generation of HC wholesale dolls from China retails for about $100.
[Prices quoted reflect the market at the time of this post; they may differ from the item's current value.]