Tonner Maudlynne Macabre Review
Submitted by

Little Raven

on Sun, 2016-12-04 15:34
I saw her on the Tonner website a while back and could've just died. --which would fit right in with the Maudlynn Macabre theme. She's macabre. And I do mean that in the nicest way.
While I initially loved her gothic, stylized, Wednesday Addams-like aesthetic, it was the blurb on the Tonner website that really sold me. "Our favorite 10 year old resides in a Victorian mansion in Upstate New York and favors dark chocolate, black cats, moonlight walks on lonely beaches, all nocturnal creatures and musty attics-particularly those frequented by her best friend (and ghost) Victoria and her side kick Edgar Allen, the talking Raven. . . ."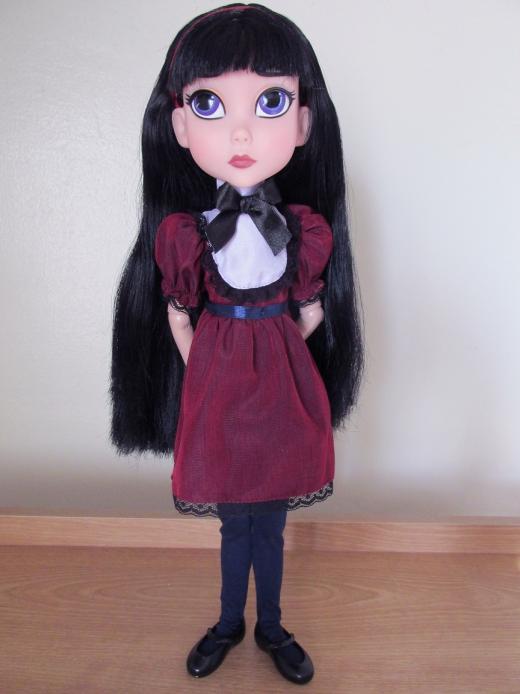 Victorian mansion?! Ghost best friend??!! Never mind that I was sold at the talking raven! Heck, I'd been in the can't-stand-it-anymore state long enough. And since she was on sale for $30 (and free shipping, thank you Cyber Monday!) I finally gave in and got her. She arrived a few happy days later and here is what I have to say about this adorably gloomy doll.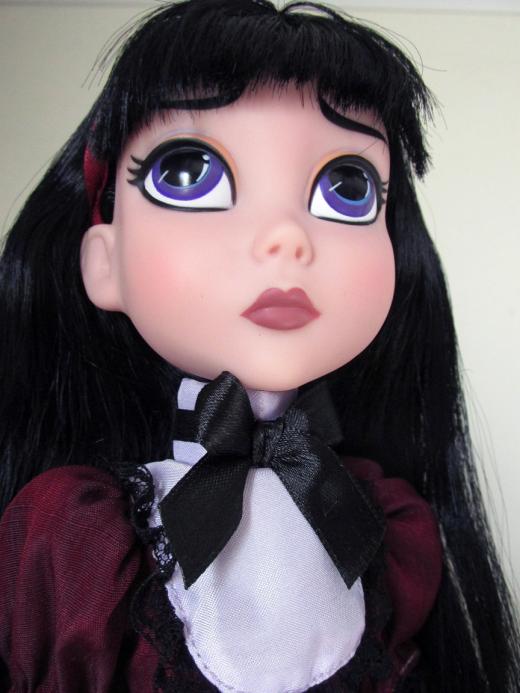 First things first, I just love this face!! She's got that uniquely Tonner somber quality that I can see even in non-emo dolls like My Imagination. But the huge mournful purple eyes take it up a notch. There is a slight anime quality about her with the oversized painted eyes which makes her cool and different, meanwhile the dark red pouty lips cinch it.

Maudlynne (whose last name is interestingly spelled "Macabre" on the front of her box and "McCobb" on that back) is said to be 10 years old (but looks to be about 13 to me). She's extremely stylized, much like a doll-toon, with a very large head and a super skinny, tall body.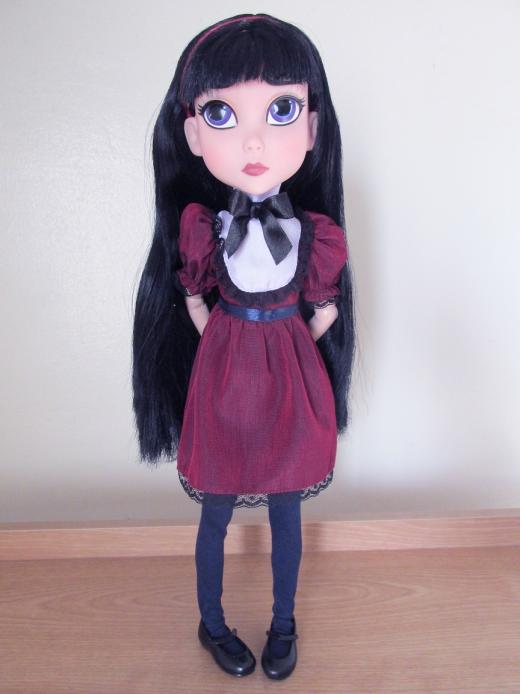 She has long thick straight black hair that comes to just above the back of her knees. It's fairly nice quality hair and soft (although the ends feel as if they might become frizzy over time). She has straight, blunt-cut bangs, which cover her surprisingly mournful brows.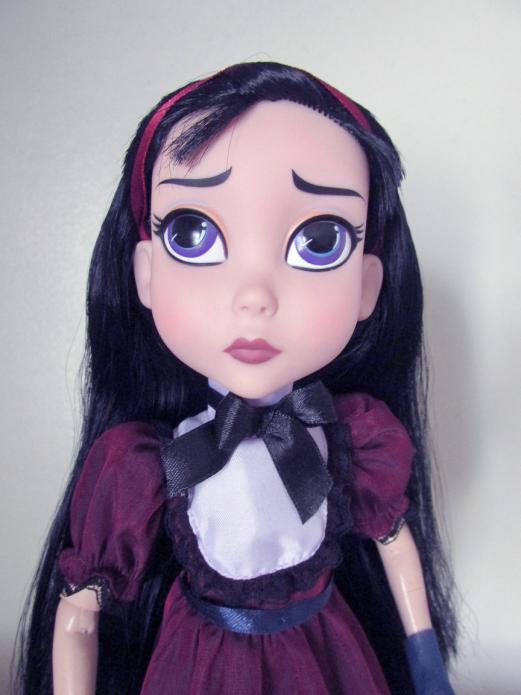 Her hair has a lot of movement and body--not as much as say, a Hearts for Hearts Girl doll who has similar size head--but quite a bit still. Her large head of large hair sits on a long neck and a slim, ten-point articulated body.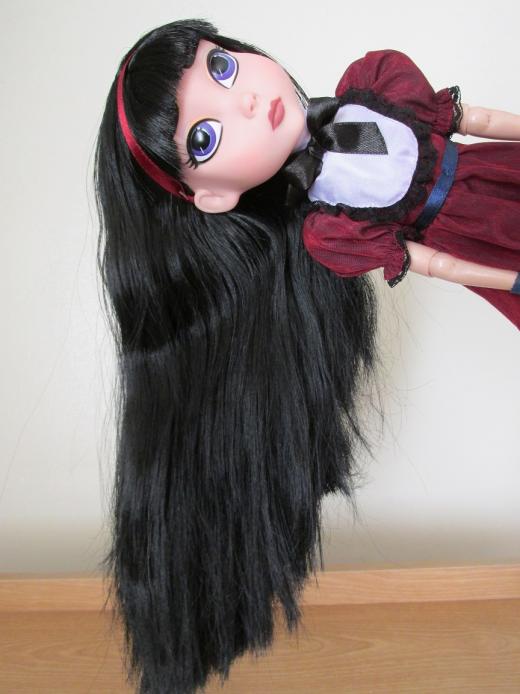 NICE HAIR, BUT NOT PERFECT

And yet for all her unusual proportion (and heavy hair) she balances very well! You can put her in different poses and she will still stand on her own for many of them, even when it involves just one foot. That's pretty impressive.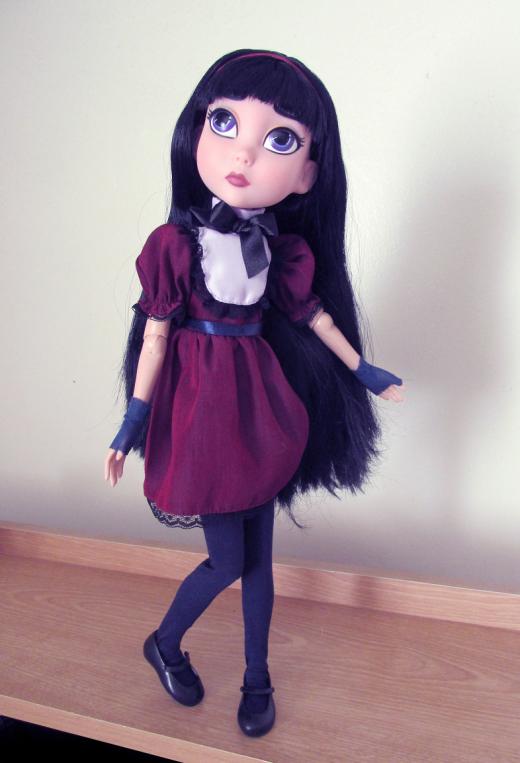 On the other hand, her joints are a bit stiff. She doesn't articulate very easily--at least my Maudlynne Macabre doesn't. And she doesn't have a fantastic range of motion. (I can't quite get her to put her hands on her hips, for instance.) Her head swivels side to side, not tilts which surprised me, and her shoulders, elbows, and knees are somewhat semi ball-jointed.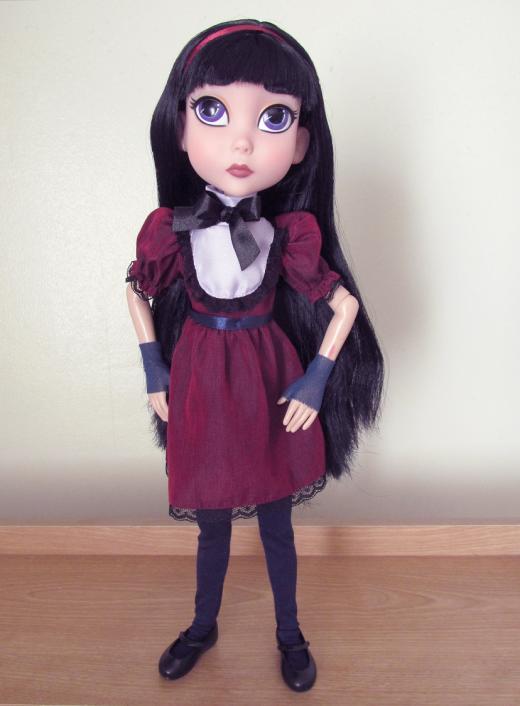 MAUDLYNNE CAN'T QUITE PUT HER HANDS ON HER HIPS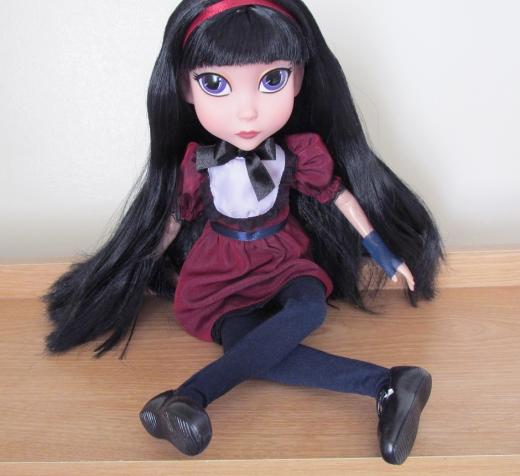 SHE CAN'T QUITE SIT CROSS-LEGGED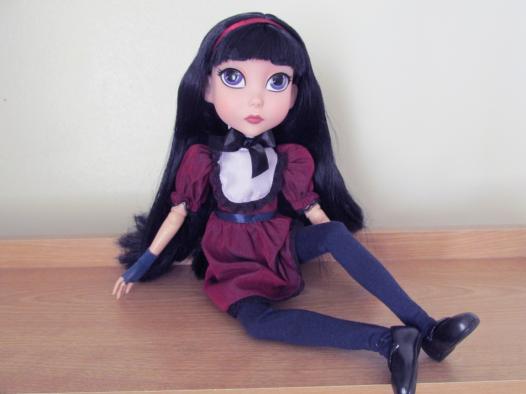 BUT SHE CAN DO THIS, WHICH IS COOL ENOUGH FOR HER

Unfortunately, her ankles and wrists are not jointed, so her pose range is slightly limited. But even with these minor shortcomings, I feel she is an awesome doll for $30.
Maudlynne comes dressed in a very cute Goth/Victorian baby doll style dress with a high neck, black neck bow, white bib, and black lace trim. The dress itself is an interesting shade of wine-red, so there's a splash of color to her--a nice change of pace from the usual goth dolls. Did I say goth? Maudlynne refers to her fashion style as "Modern Victorian Chic."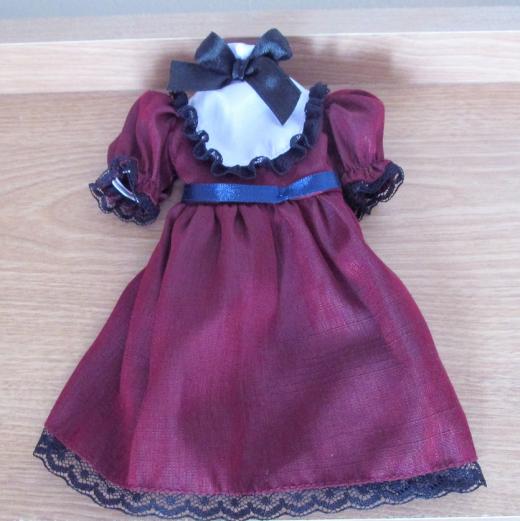 The dress is made of shimmery fabric, thicker than I thought it would be from photographs. She's wearing dark navy stretch cotton leggings (which I can never pull on securely enough) dark blue fingerless gloves, and a matching red wine ribbon tacked to each side of her head.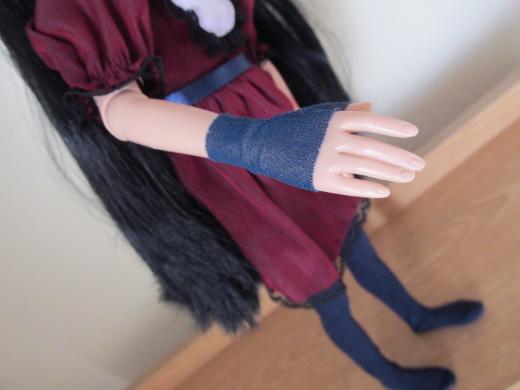 Her black shoes are a weird almost a sticky kind of rubber, which I'm not sure I care much for.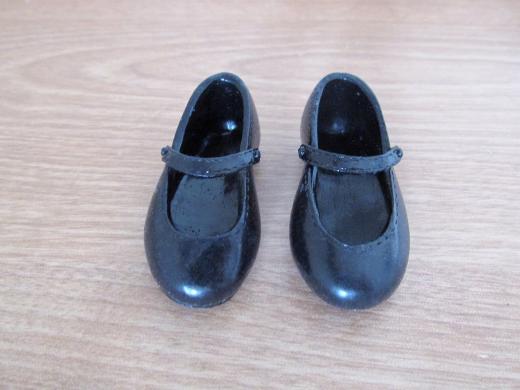 Even worse, when I was taking them off to photograph them, they broke at the strap. I promise I wasn't being especially rough about it either. They just snapped at a slight tug. That's definitely a few points off.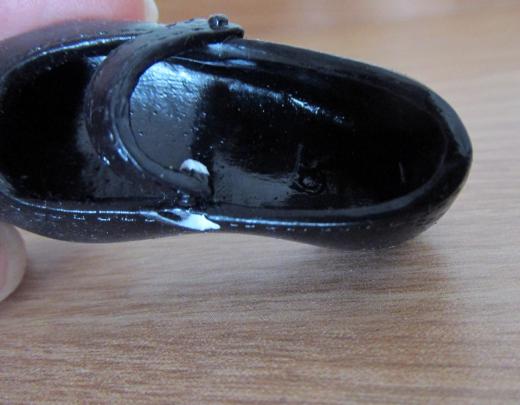 You can see that Maudlynne has a "chest" joint, which looks and acts very similar to Best Friends Club, Ink dolls' chest joint. It swivels in a full circle, giving her a lot of extra, subtle motion for posing. She's got a belly button and painted white underwear, again similar to BFC, Ink. Her back is stamped with the year 2012 and the words "Tonner Toys LLC."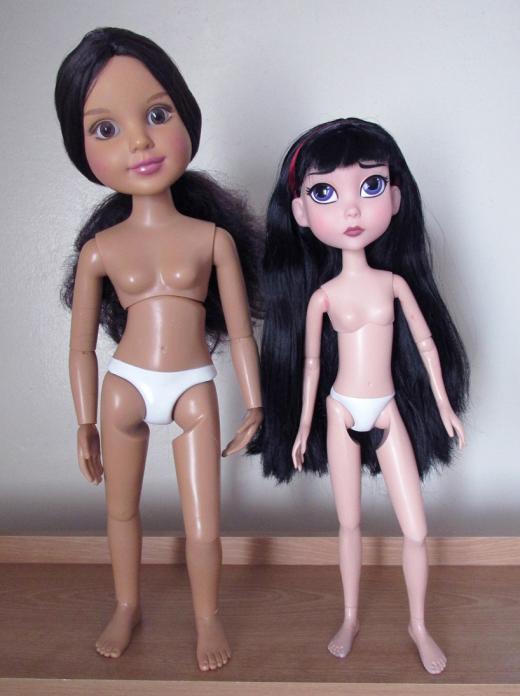 BFC, INK. NOELLE AND MAUDLYNNE

She stands 15 1/4", which is quite tall for her narrow width. And while she's in the (general) height range of 14" -13" dolls like Wellie Wishers, Hearts for Hearts Girls, or Global Friends, she's much slimmer than they are.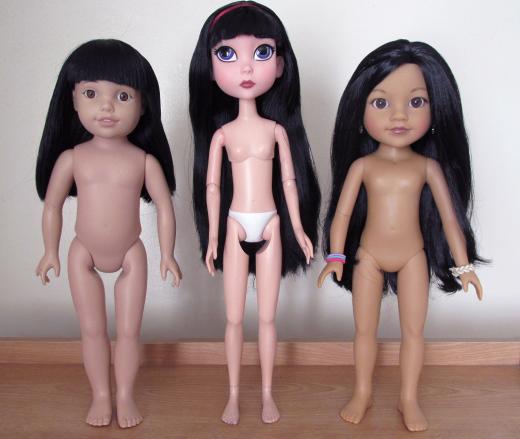 GLOBAL FRIENDS MEI LING, MAUD, HEARTS FOR HEARTS GIRLS TIPI

She's actually much more comparable in her general width to 10"-11" dolls like Ann Estelle and Berenguer Be Yourself Classmates. But Maudlynne is still thinner than they are. . .

Interestingly, she has an adolescent body that suggests a young teen or preteen of maybe 12 or 13 years, though she's said to be only 10. Early bloomer, I guess?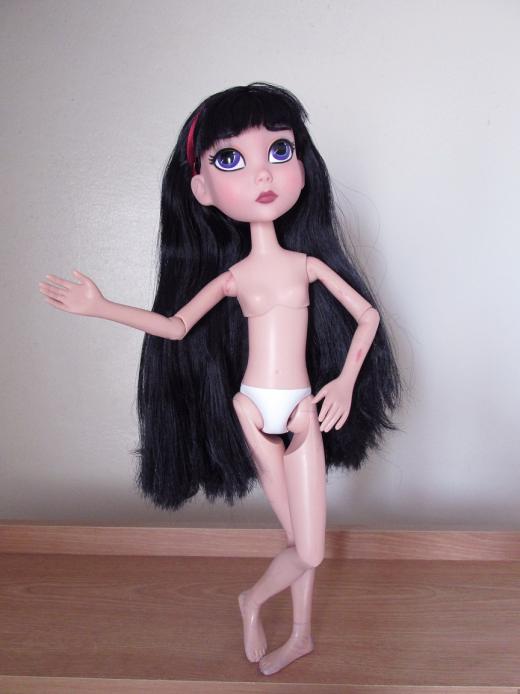 "YOU'RE NOT THE BOSS OF ME."

And while Tonner does not offer any other Maudlynne clothing or accessories other than what Maud's got on her back, talented designers have created Maudlynne-specific fashions in a variety of styles, for the ambitious seamstress/tailor and Maudlynne fan.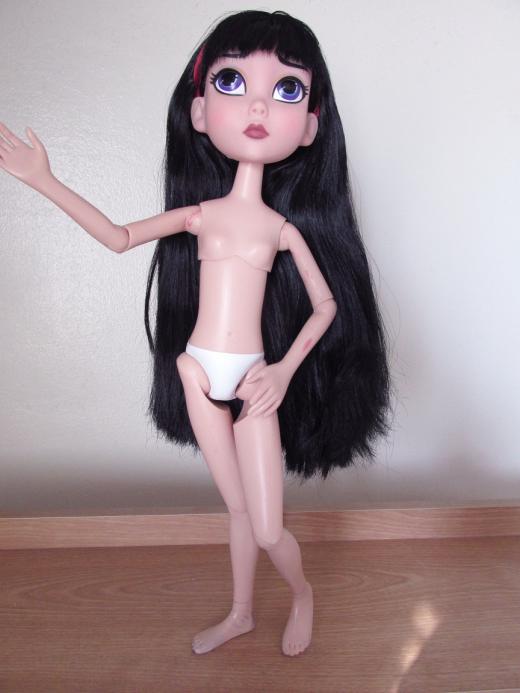 TO BE OR NOT TO BE MODERN VICTORIAN CHIC

There's something about Maudlynne Macabre's highly stylized, cartoon look that really works with the playful gothic theme. Think the Addams Family original comic strip or 1990s cartoon. Maudlynne is a little bit Wednesday Addams, but a little bit Morticia too!
One major downside however is the staining I found on her vinyl. The Tonner website even warned of possible staining on this doll, so I wasn't really surprised. But it's still more points off, as I generally prefer a doll without rash and red welts on her arms and blue tattoos on her feet.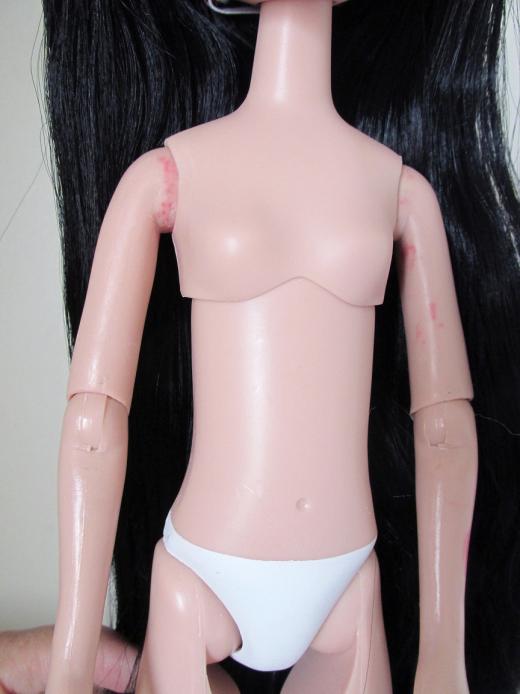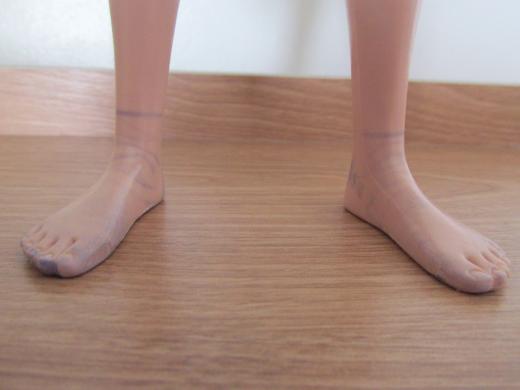 Even so, I forgive Tonner -- Maudlynne is cute. ;)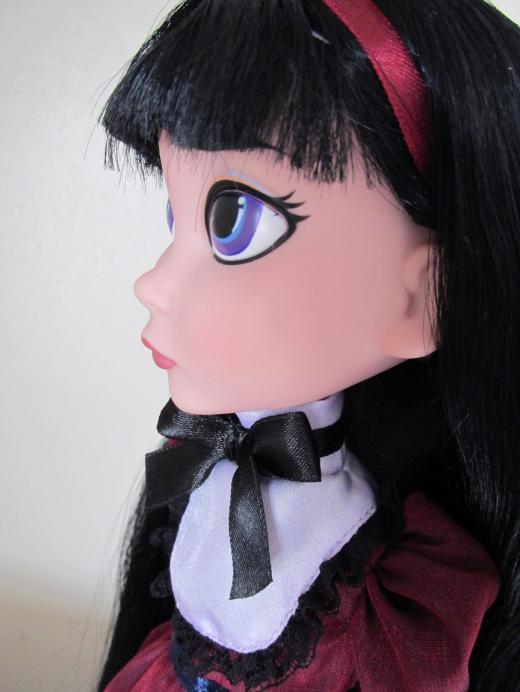 Maudlynne Macabre has been out for several years now, so her fans know that none of this is anything new. And sadly, it looks like her line never really went anywhere. Maudlynne Macabre originally debuted during Toy Fair 2012, while the following couple of years she was shown with a series of aptly themed fashions and a prototype of her ghost friend Victoria (which was really just a pale-haired Maudlynne in a white frilly dress).

But designer Jason Reilly wanted a bit more supernatural-ness to Victoria, so production was somewhat stymied as he considered using translucent vinyl to achieve a proper ghost look. Unfortunately, that seems to have been the last anyone heard of the Macabre peripherals. . .
Maudlynne's ghost BFF never materialized (no pun intended) nor did her macabre fashions or talking raven (not that I'd heard he was even on the list). And with Maudlynne herself now occupying a slot at the bottom of Tonner's clearance page, she's probably all we will ever see of her larger world (and soon maybe not even her). That leaves me feeling a bit maudlin myself.


Ultimately, while it would have been cool to have seen more of the Maudlynne Macabre world (I was personally hoping for a series of Maudlynne-Victoria mystery books that were creepy, kooky, mysterious, and spooky) for now there's at least Maud herself. She's super cool and unique, and definitely worth her current $30 sale price. In fact I'm seriously thinking of getting another while I can, and possibly modding her to a custom Victoria doll myself!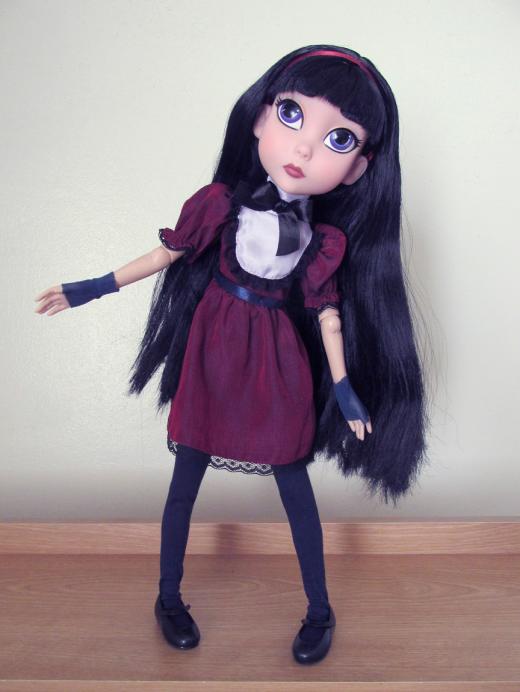 Maudlynne does her best Frankenstein's monster imitation.

No matter where it is today, I'm glad I took the sale bait last week and finally got to own this gloomy but lovely doll. And while not perfect, she has enough adorable emo charm to make this collector quite happy.