Review: My Life As School Boy
Submitted by

Little Raven

on Wed, 2017-03-29 14:38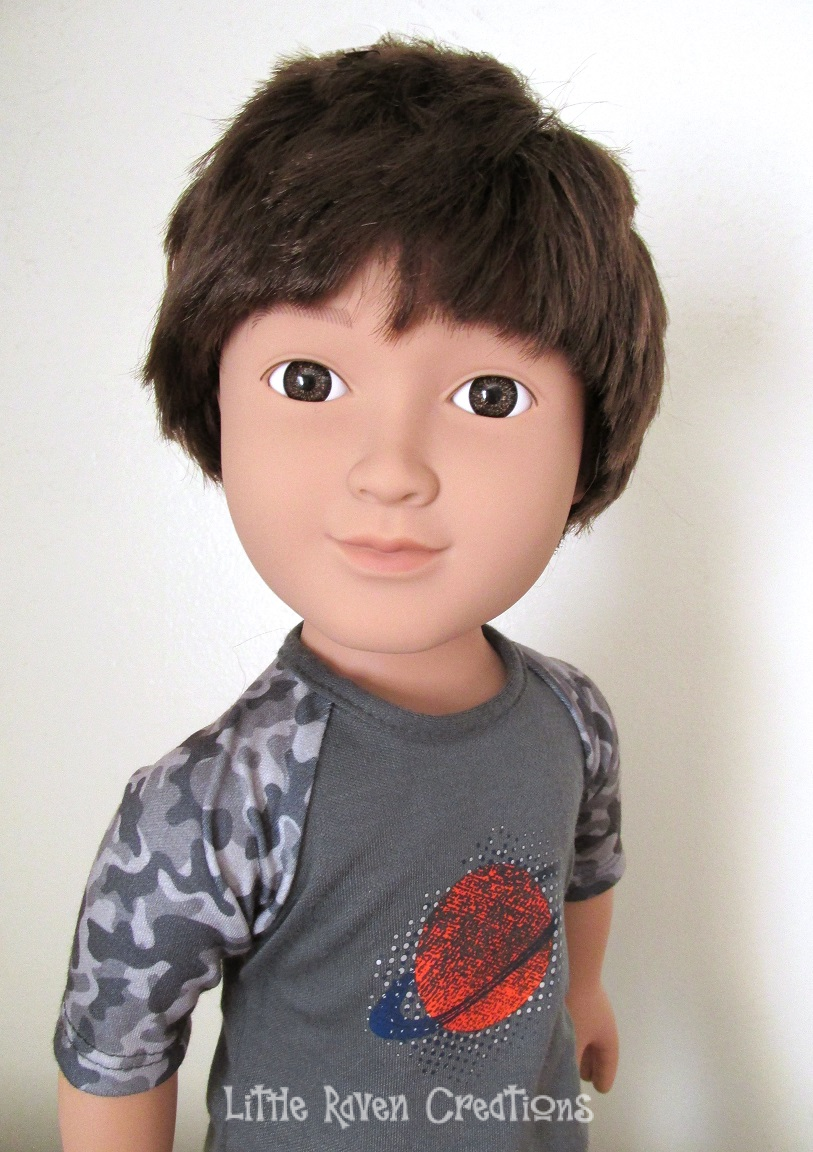 I couldn't wait to get my hands on CitiToy's My Life As School Boy, although I guess I'm a little late to the party. They debuted last year!

Actually, when I originally began this review, I only had the Caucasian doll. But I held off completing it until I tracked down the African American doll to get a more complete review in the end. Good things come to those who wait.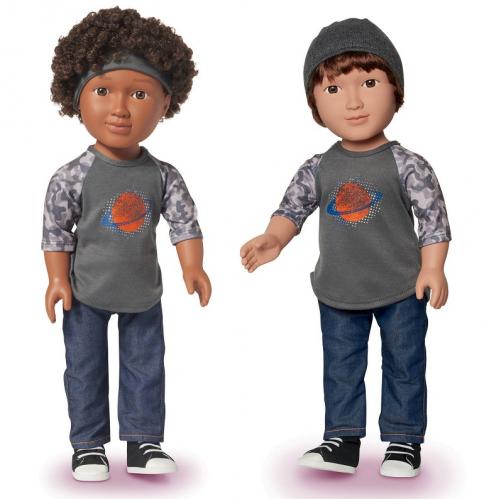 My Life As School Boy dolls may just be the coolest looking 18" boy dolls on the market. They have a trendy urban-like theme and are super good-looking with realistic features, but they're not too delicate or "pretty." They have nice, low maintenance hair and a full vinyl body that works for "kids" of all ages. Throughout my review, I kept trying to decide which one I liked better but I couldn't! I think they are tied for my currently favorite boy dolls.
Here's my School Boy as soon as I got him into the car from the store. I'd been looking for both of these dolls for a few of months, but neither one ever seemed to be on the store shelves until this one turned up outta the blue. I had to commemorate the moment with a photo. ;)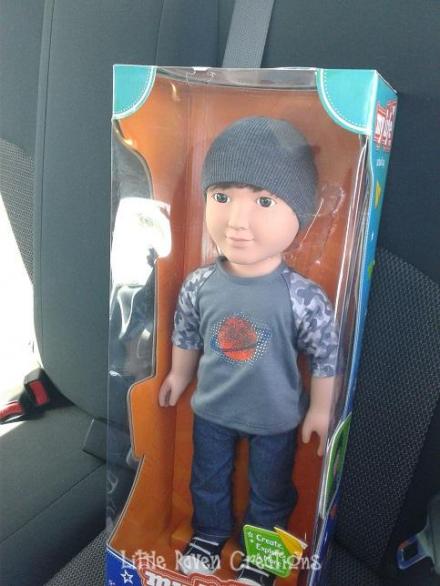 Now here he is, home and out of the box. What a good-looking guy! I love his knit beanie and urban themed clothing. I love his wide-set eyes. He's so distinctive looking!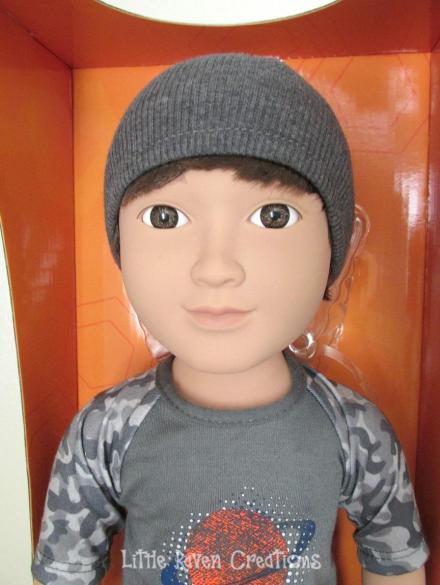 Now to extract him from his binds. I love that you can easily pop these dolls out of their cardboard shells with just a little tug of the elastic over the plastic bracer in the back. The feet then pull out of the thin support bands with almost no effort.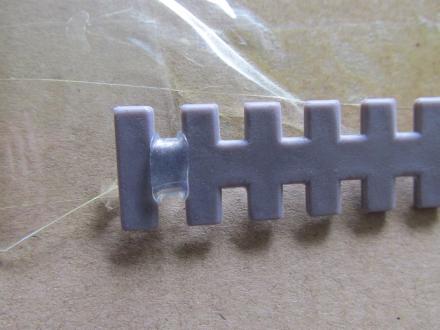 Out of the box, his standing balance is pretty good, as long as he has a flat surface. This is a plus for me since I do a lot of doll photography, and wobbly dolls are a curse on my creativity!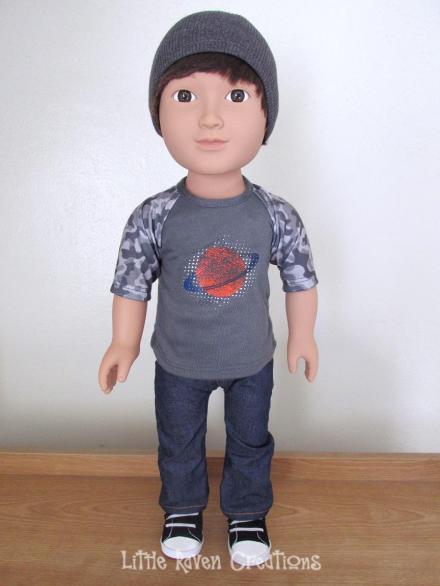 His beanie is really cute and well-made. It's soft and has a nice quality feel and stretch.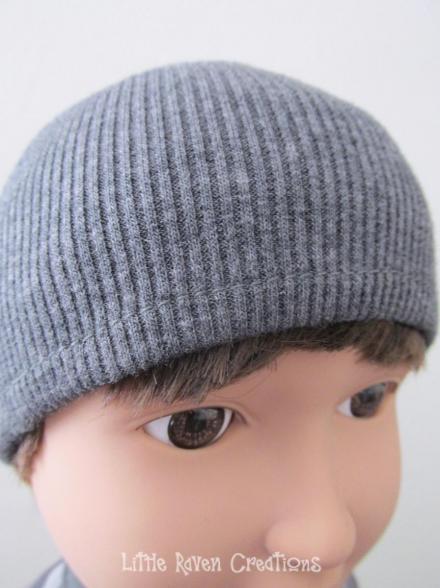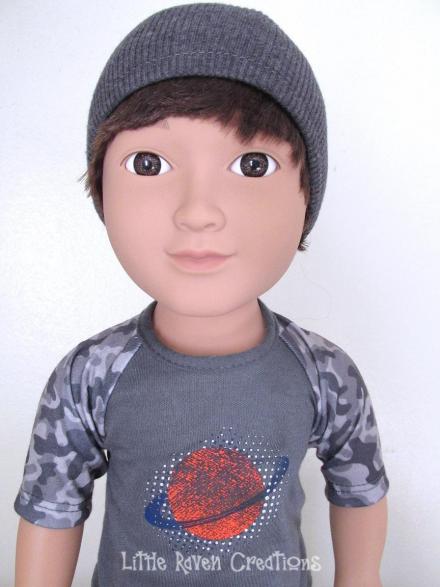 Off comes the cap! He's got a bit of hat-hair, maybe. But it's hard to deny he's pretty cute with his bushy brown hair.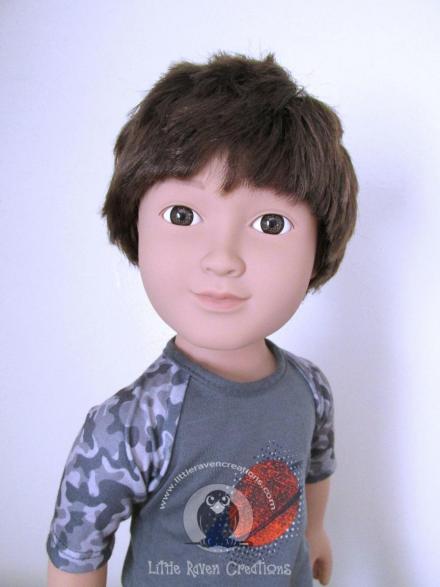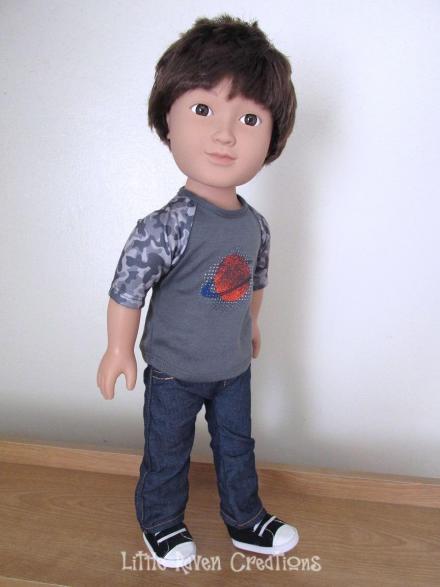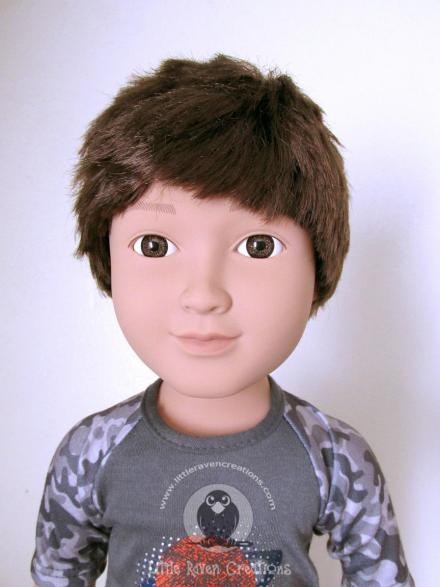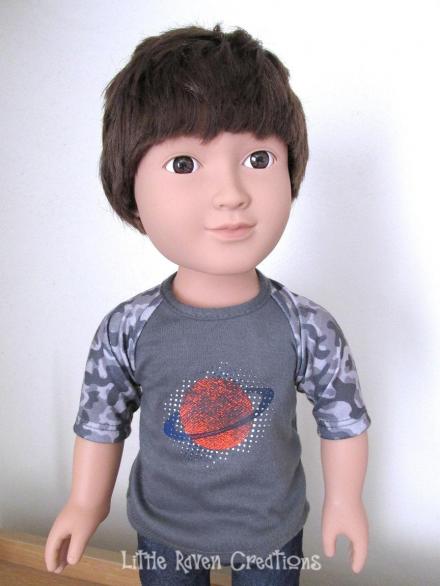 The hair is rooted, and I was surprised by how much of it he has. His hair plugs are fairly dense, as I'm trying to show here, and his "messy" boyish hair style covers what little shows of his scalp. Other than those hat-hair flyaways, he has a kind of cool, no-maintenance look. His hair is also super soft!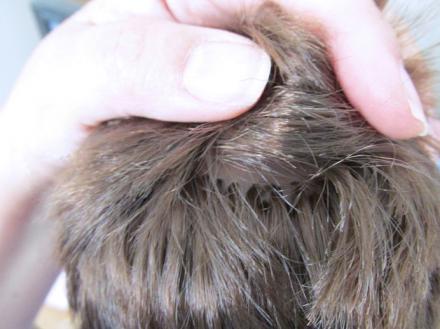 When I got the African American School Boy I noticed his hair was really soft and bouncy too. He comes with a band around his head, but I removed it. He looks better without it. I absolutely love the natural looking thick curls and the way his hair frames his handsome face!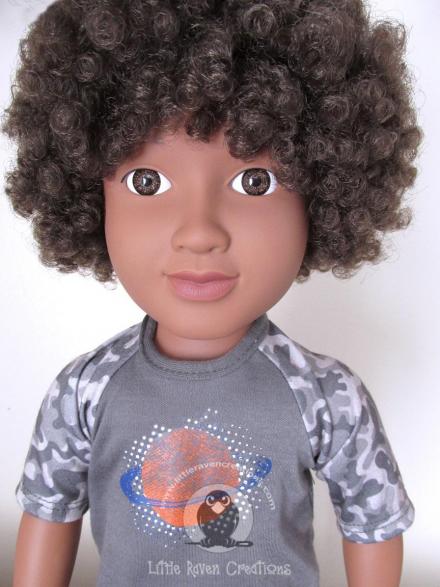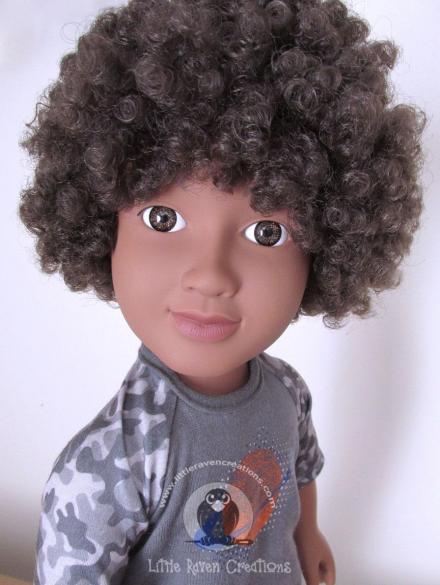 Both the Caucasian and the African American School Boy have dark brown hair and the same shimmery shade of dark brown doe-eyes. The brown color is the same shade that some of the ethnic girl dolls have, the main difference being that boy dolls have inset rather than sleep eyes. They have nicely-painted feathered brows in thick lines, and no eyelashes--just a dark line painted beneath the upper eyelid to suggest eyelashes.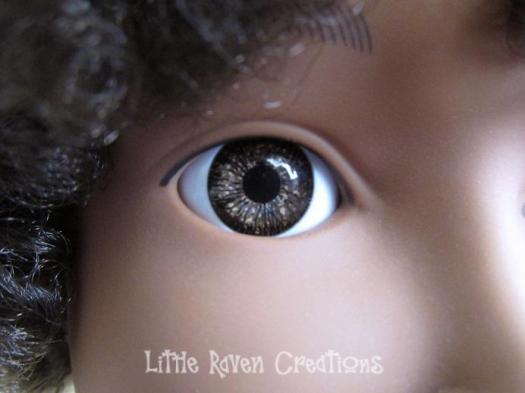 I know some folks have not cared for the no-sleep eyes or think it's creepy when these dolls lie down to "sleep" with open eyes. But it has never really bothered me. Well, not any more than dolls who sleep with their eyes closed but with open smiling mouths! :)

Also, some doll fans have suggested the My Life As boy dolls have similar or even the same features. They actually don't, though there is a strong resemblance. Side-by-side, you can see that most of the likeness is in the eyes. They may have the same eyes (though the AA boy's eyes look slightly rounder to me) but there is a very slight difference in the width of the nose, and the AA boy definitely has fuller lips.

His lips have some really cool realistic detail than the Caucasian boy's lips do not. This is a nice quality touch in a lower-cost, affordable doll.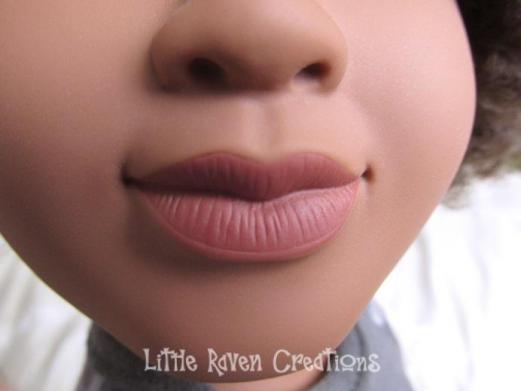 Both of these dolls are really handsome.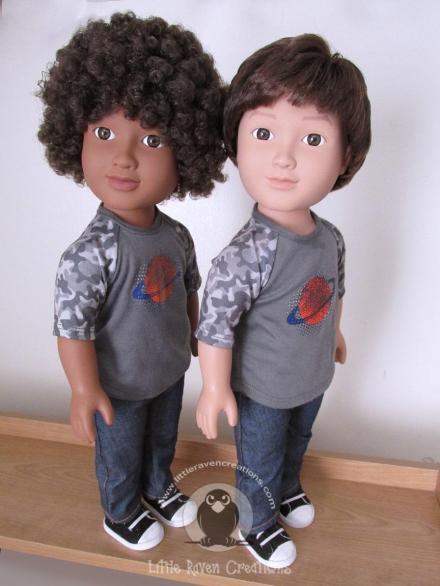 My Life As A School Boy is wearing a gray knit shirt with camo sleeves and a "pixilated" planet design on the front. The shirt fastens in the back with Velcro.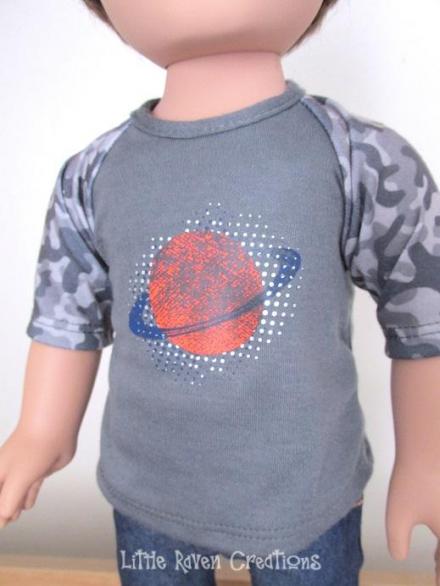 He wears a layer of protective plastic between his vinyl and knit shirt. This is a smart move after some My Life As Girl dolls suffered significant staining of their vinyl from their factory-dyed clothing.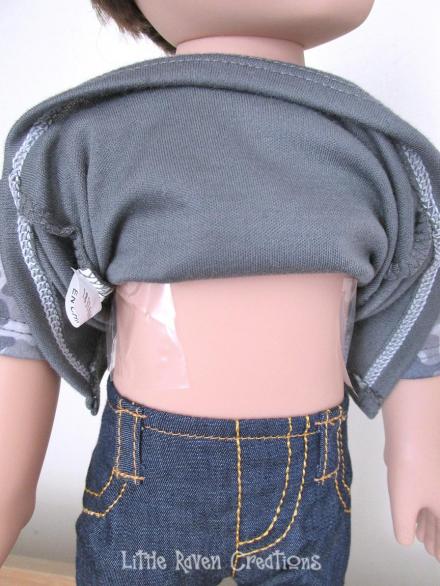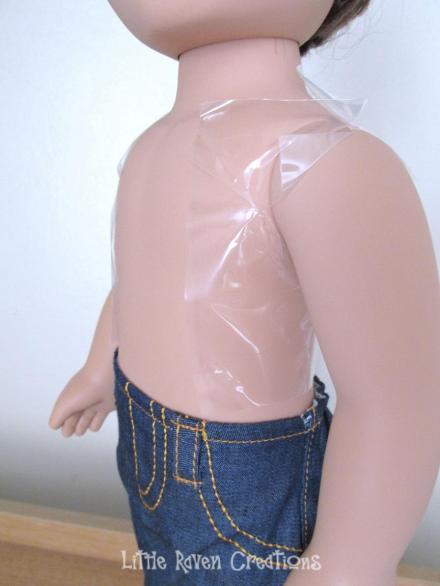 My Life as School Boys have full vinyl bodies, which makes them easy maintenance. They may need no more than a quick wipe down for cleanup. CitiToy may have had very young or very adventurous boys and girls in mind when they designed the boy dolls. Lack of moveable eyes, fiddly eyelashes, cloth bodies, and other high-maintenance features are not part of this doll's design.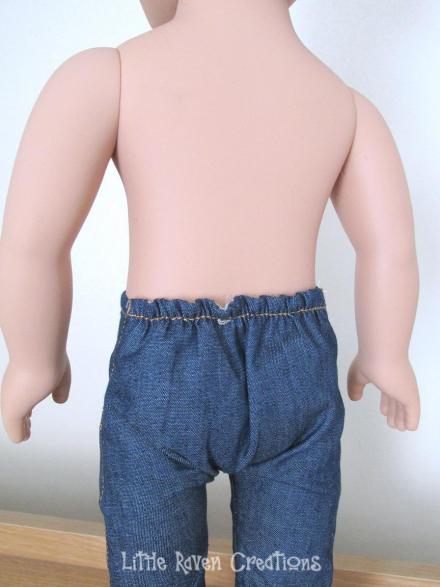 But he is cool and stylishly attractive enough to appeal to older kids as well.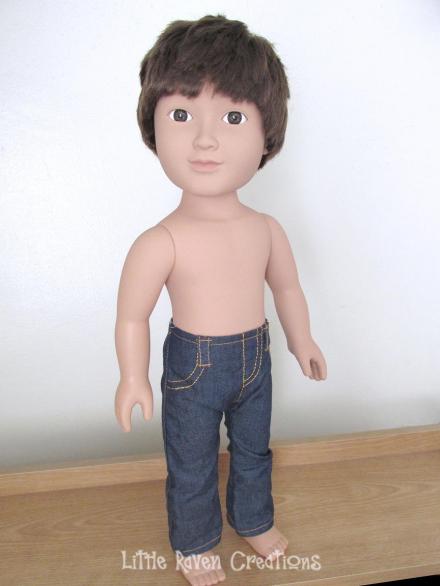 I like the boyish dimensions of the vinyl bodies. The broad shoulders and tapered form would be harder to achieve with the typical stuffed mid-section of most 18" dolls. The vinyl body helps the boy dolls to look more like boys. Realistically, the body could work for girl dolls too, but it looks more boyish to me.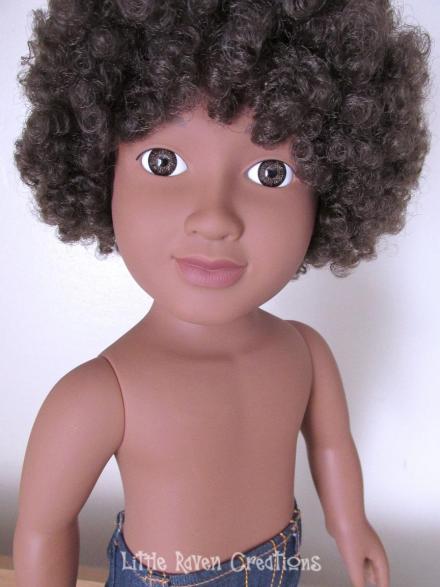 I like the little natural details like collar bones and a belly button. They have aesthetic, well-proportioned bodies.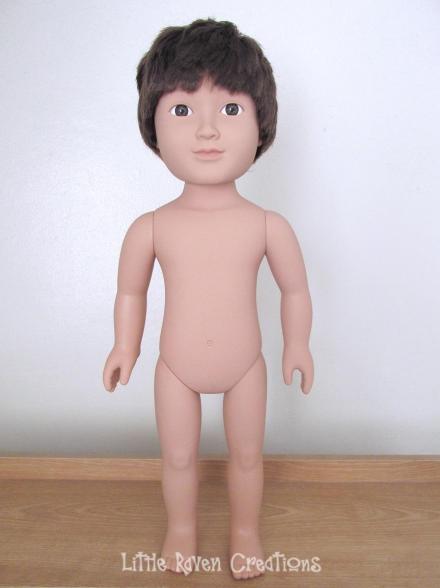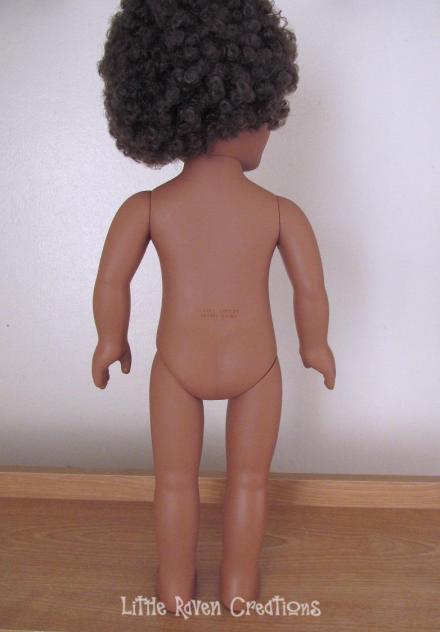 My Life as a School Boy wears jeans with an elastic waist in back and a faux fly and faux pockets. The style is cute and casual and is easy-on easy-off for ease of dressing.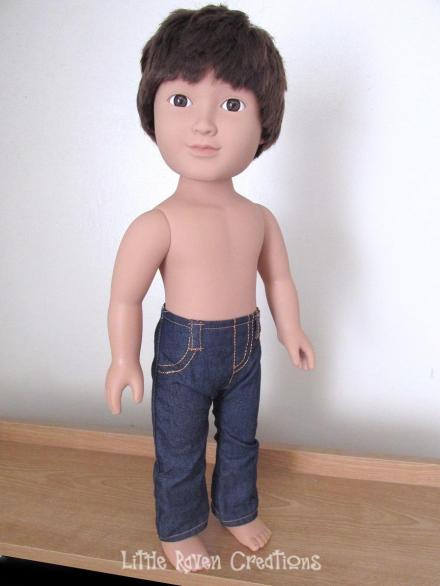 He's wearing black slip-on sneakers with elastic ties. The style is very similar to Logan Everett's slip on canvas shoes, though less precisely made. The style is cute enough.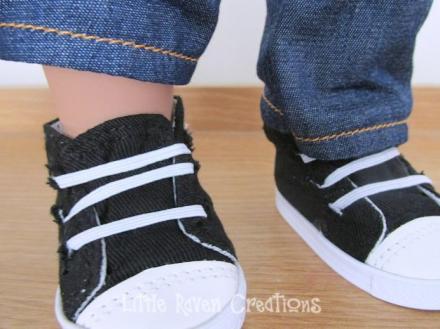 The vinyl of his feet is also protected with a plastic covering to prevent the dye from the shoes from staining his feet.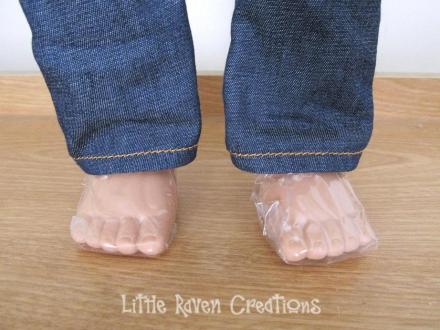 He's stamped with the CitiToy brand on the back of his neck and on his lower back.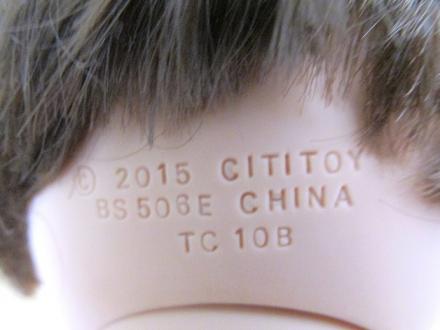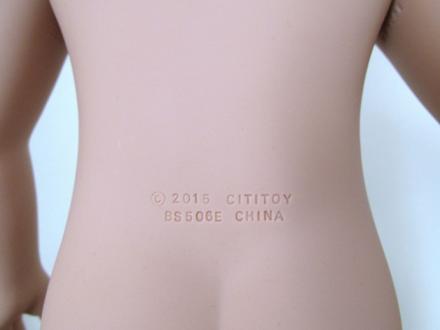 One downside I noticed about the vinyl body is that the joints are a bit stiff. This was especially true for the hips joints, and I had to wrestle with him a bit to move them. He doesn't sit very easily, and when he finally does, he does a major split. The split also makes him a little hard to balance in a sitting position.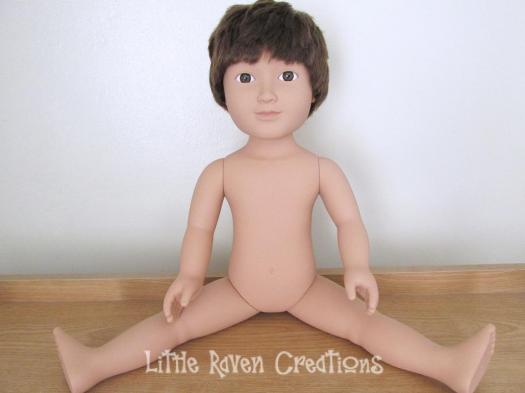 The Caucasian boy had some vague marking and scratches on the side of his body. I don't know what caused them as he was clothed and locked up tight in his box before I got him.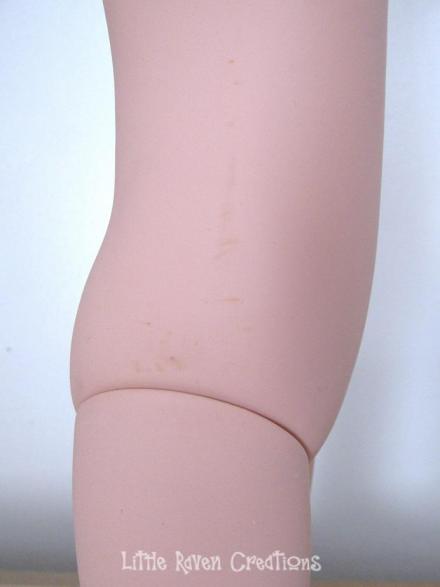 The AA doll did not have anything like this.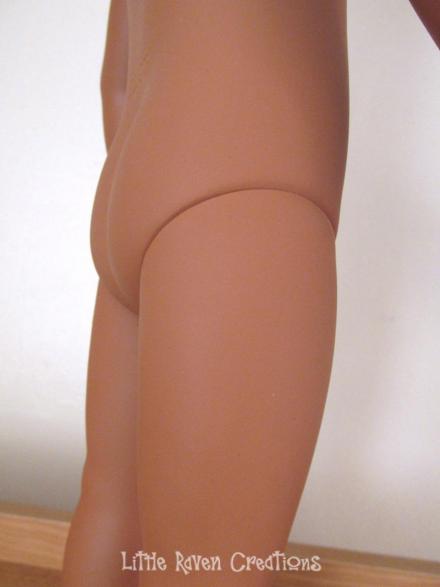 Of course, I had to compare the My Life As A School Boy to American Girl's Logan Everett. . .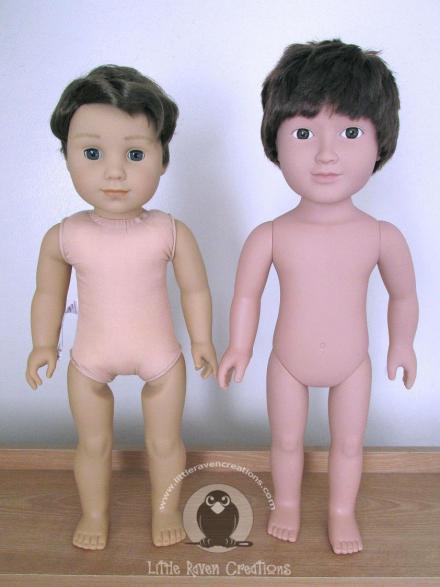 He's slightly taller than Logan, with a bigger head but similar chest and shoulder size. The main difference between them is in the size of their lower bodies. Logan has wider hips and a rounder backside in the style of American Girl dolls. The stuffing makes him a little pudgy, while School Boy has a smooth, narrow torso. School Boy's vinyl is also rosier in color.
Naturally I had to try swapping their clothing to see if they were interchangeable.
Well they are, after a fashion. . . Logan's "skinny" pants are a bit roomy around the middle for School Boy.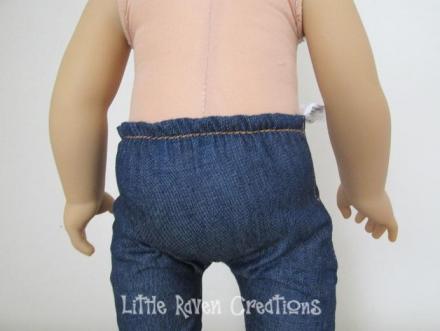 Likewise Logan can barely--and I mean barely--squeeze into School Boy's jeans. Yikes I wouldn't encourage him to sit in those!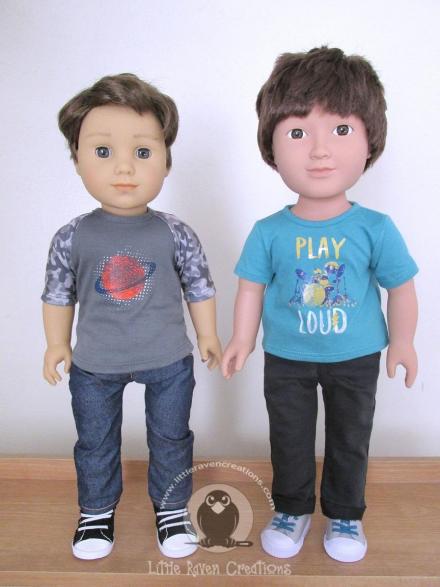 Here's the total clothing swap. Despite the fit issues, they both look kind of cute. I especially love the skinny jeans look on the My Life As boy. I think the School Boys may want to consider starting a band. . .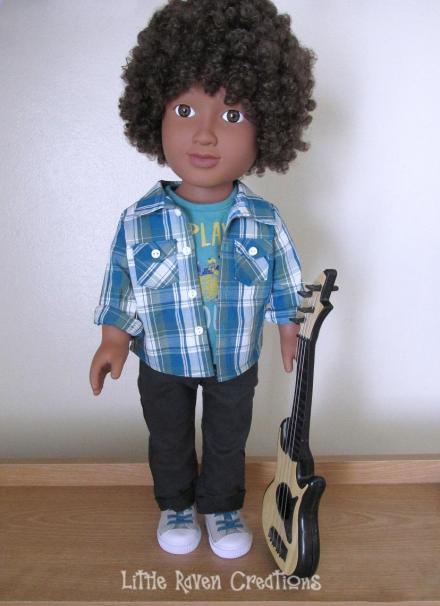 My final assessment is that I love these new boy dolls. I have almost nothing negative to say about them, other than maybe their joints could be less stiff. But I imagine they will loosen up with time and play, so even that's no big deal. And while I appreciate upscale boy dolls like AG's Logan Everett, I think I'm liking My Life As boy dolls more at the moment, especially for their low maintenance and their affordability.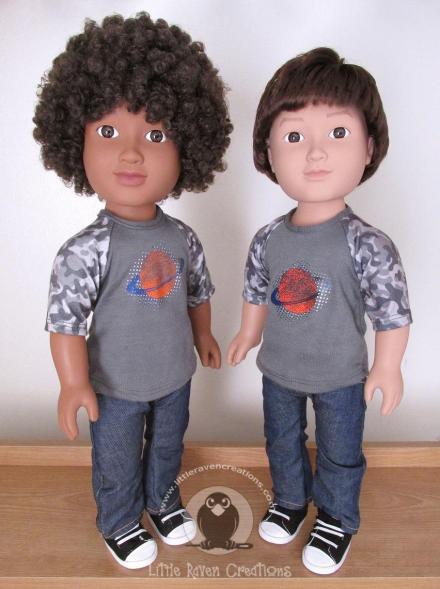 I'm sold on their cute faces, tussled no-fuss hair, and their casual street "cool."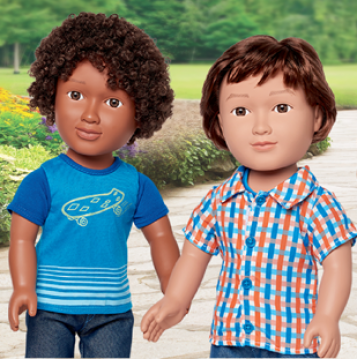 A few additional boy fashions are available, but I hope to see even more of them, more accessories, maybe even more boy dolls in the future. :)


I recommend these dolls for anyone who might be considering a new boy doll. I think they work equally well for young children who might give their toys a workout and for older kids (including us adult "kids") who like to dress and model or display dolls, especially when they're as cute as these!